Dates:
Friday, April 23, 2021: Civic Engagement
Friday, April 30, 2021: Health & Wellness
Friday, May 7, 2021: College & Career Success Time and Location: 1:00 p.m.– 3:30 p.m. on Zoom Summit Theme:

(Be Resilient)
The Native Student Success Summit is designed to inspire and empower high school and college students to be successful in higher education and beyond. Registration is required.
During the free summit, participants will:
Find encouragement and support with tools and resources for Native student success and leadership development.
Gain an increased awareness of ways to identify, articulate and work toward actionable goals for personal and communal success in culturally rooted ways.
Make meaningful connections and gain a deeper sense of community with other Native student leaders in Western Washington.
The summit for American Indian and Alaska Native students is the result of a partnership between Highline Public Schools and Highline College.
Participating as presenters and organizers are Native educators, professionals and community leaders from the school districts of Auburn, Federal Way, Kent, Renton and Seattle; Green River College; and Seattle Indian Health Board.
Sara Marie Ortiz and Dr. Tanya Powers are the founders and lead organizers of the summit, now in its third year.
Ortiz is a member of Pueblo of Acoma, a tribal community in New Mexico, and manages Highline Public Schools' Native Education Program.
"There's nothing quite like the Native Student Success Summit. We've worked hard to create an opportunity that isn't just about college or career access and success for Native students alone," said Ortiz.
"We see it as an expansive, immersive, challenging, intergenerational learning opportunity; a chance to connect with each other, ask tough questions, challenge norms, have critical conversations and feel truly supported at the summit and far beyond by a powerful network of Native scholars, professionals, artists, advocates and visionary Native change-makers. This has never been more urgently needed in these very complex times."
Powers is mixed heritage St. Lawrence Island Yupik/Siberian Yupik and Irish and is the director of Workforce and Baccalaureate Education at Highline College.
"This is our fourth annual Native Student Success Summit and we are pleased to have this event where we can nurture culture, identity and community," said Powers, who recently defended her dissertation — "Giving Back, a Retention Influence of Urban American Indian and Alaska Native Women Community College Students" — at Seattle University, completing her doctorate in educational leadership.
According to Powers, the two were inspired by other successful Highline College events for students of color, such as the Black and Brown Male Summit, the Y.E.L.L. Female Summit and the Latinx Summit. Approximately 100 students are expected to attend.
Questions?
Dr. Tanya Powers: tpowers@highline.edu or (206) 592-3662
Sara Marie Ortiz: sara.ortiz@highlineschools.org or (206) 631-3162
Registration
Sorry, this registration link is now closed. Please contact your local District Native Coordinator for more details.
Agendas
1:00–1:20pm: Social time
1:20–1:30pm: Opening prayer/Welcome
1:30–1:50pm: Keynote (Different speaker each Friday)
1:50–2:00pm: Transition/Break
2:00–2:30pm: Three sessions to choose from
2:30–3:00pm: Wrapping up and closing Remarks
3:00–3:30pm: College information session.
Keynotes:
April 23: Colleen Echohawk
April 30: Mariah Gladstone
May 7: Sovereign Bill
Speaker Biographies
Sara Marie Ortiz
Sara Marie Ortiz (Pueblo of Acoma) is a graduate of the Institute of American Indian Arts and Antioch University Los Angeles' MFA program with a concentration in creative nonfiction. She's formally studied law, Indigenous education, global self-determination in Indigenous communities, journalism, radio, theater, critical theory, and film. Ms. Ortiz has worked in the realm of Native arts, education, and culture advocacy for over 16 years. She has published widely and has been featured in such publications as the Kenyon Review, Ploughshares, the Florida Review, the American Indian Graduate, Indian Country Today Media Network, and has presented widely at tribal schools, tribal colleges, conferences and universities. Sara Marie Ortiz lives in Burien, Washington, is the urban west representative for the OSPI WA State Native American Education Advisory Committee, the lead coordinator for the NW Native Writers Circle, and is currently the Native Student Success Program Manager for Highline Public Schools.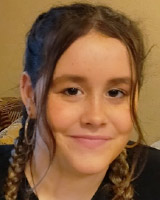 Isabella Kreissler
Isabella is mixed heritage of Alaskan Native from Curyung tribe, German, Puerto Rican, and African American. She is an 8th grader at Glacier View Junior High and is part of NAYLA and the teen advisory council at the Pierce County Library. She enjoys drawing, reading, and creative writing in her free time.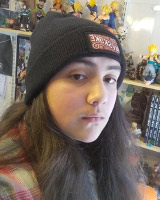 Muttellokee Eros Beaver
My name is Muttellokee Eros Beaver. My name means people gather around when I speak in the Muskogee language and it is a name only carried by my family. I am Muskogee creek native. I'm 15 and I like to skate board, drawing and watching anime.
Mary Willoughby
Mary Willoughby was born in Alberta, Canada on the Blood Reservation, she is a Blood member and a descendant of the Blackfeet Tribe. She graduated with her Bachelor's degree in Education from Heritage University and has taught for two years in the Highline School District. Her next step in education is obtaining her Master's Degree in Teaching at the University of Washington. In her free time, she loves spending time with her family and organizing homeless outreaches for the less unfortunate. Mary believes education and a helping heart is key to changing the world around her.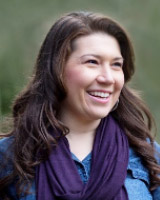 Iesha Gloria Valencia, M.Ed.(she/her/hers)
Born in Sunnyside, Washington, and raised in a small town in Northern California, Iesha earned her bachelor's degree in Child Development from California State University, Chico, in 2006. While in college, she was involved outside of the classroom as a TRiO student and in her Latina-based sorority, Lambda Theta Nu Sorority, Incorporated. Giving back to her community in meaningful ways has always been very important to her and pursuing higher education was the best way she knew how to give back while cultivating a career. Having a passion for working with college students who are the first in their family to go to college led her to graduate school. In 2009, Iesha earned her M.Ed. in Higher Education and Student Affairs from the University of Vermont and has since worked with college students at the University of Vermont, Seattle University, and now Highline College. Iesha is currently the Associate Dean for Student Life at Highline College and is in her second year as a Ph.D. student.
Patricia Christine Aqiimuk Paul, Esq. 2021
Patricia is an enrolled tribal member in the Native Village of Kotzebue. She is Alaska Native (Inupiat) and raised in Fairbanks, Alaska. She graduated, with honors, from Shoreline Community College with an Associate of Arts and Sciences degree. She holds a Bachelor of Arts degree from Antioch University in Seattle. She received her juris doctorate from Seattle University Law School and immediately stepped into the position as a pro-tem tribal judge with Northwest Intertribal Court System. She currently presides as an appellate tribal judge with the Confederated Tribes of Grande Ronde. She lives in the Swinomish Indian Tribal Community with her husband, Kevin Paul, who is a Master Carver.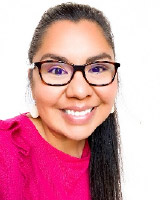 Mary Silentwalker, M.Ed.
Mary Silentwalker is from San Felipe Pueblo and Diné (Navajo) and is the Director of Admissions & Recruitment at the Institute of American Indian Arts (IAIA) located in Santa Fe, NM. She received her undergraduate degree in Speech and Hearing Sciences and her graduate degree in Post and Secondary Education from Arizona State University. Her combined experience of 18 years in higher education are in the areas of recruitment, admissions and student success with a high focus on assisting Native American students. She has worked at Arizona State University, UNM Health Sciences Campus and the Gates Millennium Scholarship program, and has been with a tribal college IAIA for 7 years. She finds deep joy helping Native American students and families navigate the process to college, vocational or personal career aspirations.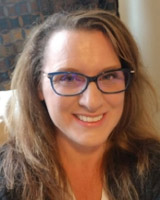 Kelly Crouch
Kelly Crouch is the Strategic Advisor for the Washington State Internet Crimes Against Children Taskforce. She has been employed with the Seattle Police Department for five years and has worked in law enforcement for over 17 years. Her philosophy when speaking to parents and children regarding internet safety is to uncover and show the unintended consequences and how to avoid them. She has spoken nationally on the topic of internet safety and continues to spread the message of how to use the internet and social media in a positive way and some unintended consequences that we face.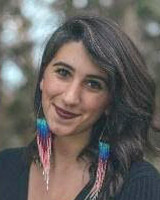 Sofia Locklear
Sofia Locklear is from the Lumbee Tribe of North Carolina. She grew up locally in Burien and attended Gregory Heights, Sylvester Middle School, and Highline High School. She attended Seattle University for college and the University of New Mexico for graduate school where she studied sociology. Sofia works locally at the Seattle Indian Health Board and researches health outcomes for American Indians and Alaska Natives.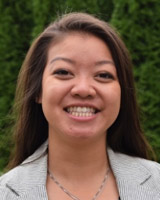 Stephanie Ung (she/her)
Stephanie is a U.S. born womxn of Khmer, Filipinx, and Chinese descent. Stephanie works for the University of Washington GEAR UP Achievers, focused on supporting the classes of 2024 and 2025 in South King County around college and career success. This is her first year joining the Native Student Success Summit planning team. She is an organizer and youth leader with the Khmer Community of Seattle King County, and actively involved in the Young Women Empowered (Y-WE) community, currently as a co-facilitator for the Y-WE Asian Pacific Islander Anti-Racism Solidarity Group. Originally from the ancestral lands of the Chumash people in Southern California, Stephanie currently resides on occupied Coast Salish/Duwamish territory, known to many as Renton, WA. She enjoys good food with good company, walks along the water, and a solid kitchen dance party.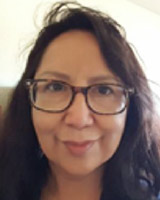 Yvette Pinkham, MSW, So. Cheyenne
Mother Nation Cultural Services Coordinator/Wellness Coach. Yvette is a member of the So. Cheyenne tribe and has a wealth of 21+ year's working experience with underrepresented and diverse youth/families and Elders. She is a life-long student of Traditional teachings, Holistic practices, and Wellness education. In her background as a Chemical Dependency Professional, an Indian Child Welfare foster care social worker, and as a Wellness coach. Yvette brings enthusiasm, patience, positive attitude, serene personality to her role as Cultural Services Coordinator at Mother Nation. She is a dedicated to giving back to the Native community and is honored to serve as a past board member for Red Eagle Soaring Native Youth Theater and for UNEA/Seattle Clearsky Native Youth Council. She is an Adult Child of Alcoholics (ACA) and proud member of Wellbriety and Alanon Family Groups. We feel blessed to have her join the Mother Nation family!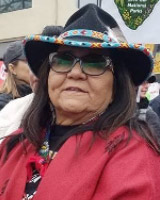 Nancy Shippentower-Games
Nancy Shippentower-Games is a member of the Puyallup Tribe. She is one of eight children and grew up on the banks of the Nisqually River in a place called Frank's Landing at a time when fishing rights and other tribal issues were heating up. Her parents, Janet and Don McCloud Sr., were leaders in the fight to protect treaty rights and went to jail for it. Nancy and other children also witnessed the beginnings of a spiritual movement. Her parents and many other mentors and teachers opened their homes and land to host events and feed people who were trying to rediscover their cultures. They also organized education and travel to help people learn about other tribal cultures. "We are the children of the movement," Nancy said. "We were taught by respectable elders, and I try to live a good life." Nancy went to Riverside Indian School, a boarding school in Anadarko, Okla., that today represents more than 75 Native American tribes. In 1975, she graduated from Evergreen State College and went to work for the Puyallup Tribe. She was elected twice to Tribal Council and testified before the U.S. Senate and U.S. House as the Puyallup Land Claims Settlement was under consideration. She is a signatory to that historic agreement and to the historic Centennial Accord between the federally recognized tribes in Washington state and the state of Washington. Today Nancy is shellfish director for the Puyallup Tribe and is active in many issues, including the protection of treaty rights, clean water and children's needs. She has chaired the Puyallup Fish Commission for many years and has served as the natural resource policy representative-guardian ad litem. Nancy has six children, 13 grandchildren and 10 great-grandchildren. One of her brothers has passed.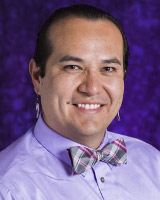 Iisaaksiichaa (Good Ladd) Ross Braine
Iisaaksiichaa (Good Ladd) Ross Braine is the inaugural University of Washington Tribal Liaison and Director of wəɫəbɁaltxʷ· – Intellectual House. He a citizen of the Apsaalooke (Crow) Nation and descendant of the Tsitsistas (Northern Cheyenne), both located in the state of Montana. He is also a member of the Biglodge Clan and Nighthawk Warrior Society. He created and facilitates the annual UW Tribal Relations Strategy with senior leadership and also leads the wəɫəbɁaltxʷ · – Intellectual House team. He was integral to the feasibility study, stakeholder outreach, fundraising, design, and operation of wəɫəbɁaltxʷ. His true passion, however, is student success. You can find him mentoring and growing student leaders and professionals in his office, where he always keeps the door open. He collaborates often with faculty throughout academia on publications, research, and lectures. Iisaaksiichaa Ross holds a BS in Forest Management and MS in Information Science, all from the University of Washington. He has also recently begun his professional academic career at the UW iSchool and is working toward his PhD.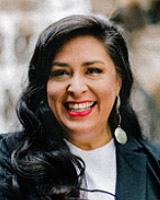 Colleen Echohawk
Colleen Echohawk is an enrolled member of the Kithehaki Band of the Pawnee Nation and a member of the Upper Athabascan people of Mentasta Lake. As the founder of the Coalition to End Urban Indigenous Homelessness, Echohawk is committed to homeless advocacy and changing the trajectory of Native American and Alaska Native people living away from reservations in urban places and experiencing homelessness. Echohawk is interested in creating systems and structures that help facilitate wellness, and encourage kindness and courage. Recognizing a lack of equity in housing design Award (2017), and Municipal League of King County's Organization of the Year (2016). Colleen Echohawk serves on many local boards, including a Mayoral and development, and the profound impact that this can have on the well-being of people of color, Echohawk has turned her focus to equitable low-income housing development and indigenous-led design. Echohawk's education has been focused on organizational development and leadership; helping brilliant people do better work for the greater good. She is the co-founder and principal at Headwater People Consulting Group. Named as one of Seattle's most influential people by Seattle Magazine (November 2019) and one of Seattle Met Magazine's 50 most influential women in 2018, Echohawk has also been awarded the Adeline Garcia Community Service Award (2018), Antioch University's Public Service Award (2018), and Crosscut Media's Courage Award for Public Service (2016). Under Echohawk's leadership, Chief Seattle Club received the Puget Sound Sage Visionary for Justice Award (2019), Seattle Community Law Center's Equity Award (2018), the Neighborhood Builder appointment to the Community Police Commission. Other board affiliations include Seattle Foundation, KUOW (National Public Radio member station,) Downtown Seattle Association, and All-Home Coordinating Board. She is also the former board chair at Red Eagle Soaring Native Youth Theatre and a former board member at the Pioneer Square Preservation Board. In her spare time, she loves to read, sing karaoke, listen to National Public Radio and cook delicious food for her friends and family. Echohawk is a proud mom to two children and is married to Matt Hayashi.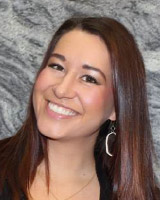 Mariah Gladstone
Mariah Gladstone (Blackfeet, Cherokee) grew up in Northwest Montana. She graduated from Columbia University with a degree in Environmental Engineering and returned home where she developed Indigikitchen. Mariah has been recognized as a "Champion for Change" through the Center for Native American Youth, a "Culture of Health Leader" through the Robert Wood Johnson Foundation, and an MIT Solve Indigenous Communities Fellow. She serves on the board of the FAST (Food Access and Sustainability Team) Blackfeet. Mariah is a Sloan Scholar currently completing her Master's Degree at SUNY – ESF through the Center for Native Peoples and the Environment.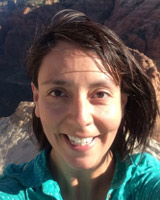 Cina Littlebird (Pueblo of Laguna)
Cina Littlebird (Pueblo of Laguna) is a staff attorney in the Native American Unit at Northwest Justice Project where she supports low-income Native American students and families across Washington. One of her favorite cases has been an employment discrimination suit against the state of Washington based on the disproportionate involvement of Native American families in the child welfare system. Cina has a firm belief in the power of classroom experiences to change life trajectories and pursued a joint law degree and Masters in Education in order to better inform her education advocacy work. She is also an avid dancer and spent years in between college and graduate school touring with an all-indigenous contemporary dance company. Working title is: "The Many Different Faces of Advocating for Community" – I'm planning to share how my seemingly meandering educational and career pathway actually has a clear trajectory when you see the common focus on supporting Native communities.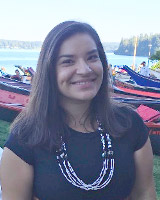 Kayla Guyett (Jicarilla Apache)
Kayla Guyett (Jicarilla Apache) is the Native Literacy and Culture Specialist at Highline Public Schools. Kayla works closely with the implementation of the Since Time Immemorial curriculum as well as the Title III qualified Native Education students.